Printing date on cosmetic paper box
Date:2019-05-21 Source:本站 Read:38
BACK
Laser printing on cosmetic box
Cosmetics is now in the market of popular items, packaging box demand is strong and big quantity , the traditional inkjet printer is far there is no way to meet the needs of manufacturers, traditional machine printed words can erase a false changes, volatile, easy to cause pollution to the environment, need daily maintenance, high cost, a high requirement on the material, consumables are also expensive, print effect is bad, efficiency is too low, which is a series of problems to increase the production cost of manufacturers and workload, reduce their profit margins.
The solution of BIMEIGAO laser coders :
In order to solve the disadvantages brought by traditional machines, maximize the profit of manufacturers, and make the outer packaging of cosmetics more high-end and reliable, our factory provides customers with competitive laser application solutions and services. With our strong technical strength, we focus on the needs of customers and continue to create value for customers. We keep pace with The Times, pay attention to science and technology, is no longer the traditional need a lot of consumable inkjet machine, but the use of laser, simple operation of the laser code printer FA/UV/CO2 series, our laser machine is equipped with high-speed mirror scanning system, quickly achieve the inkjet function.
The advantage of BIMEIGAO laser as bellow :
1BIEMGAO laser coders delivery clear codes on the cosmetic box, which makes the box looks more high class
2 Message printing by laser coders are permanent exit , which can avoid missing.
3 BIMEIGAO Laser coders no need consumable materials, which help manufacturers save cost&resource-saving.
4 High efficiency,which efficiently rise the productivity.
5 High performance & reliability, no need careful look-after, almost free maintenance.
BIEMGAO has rich experience in coding filed, we can provide you customized solutions for you according to the product features and your capacity requirements. Please talk to us for technical consulting.
Laser coders models for cosmetic paper box
.FA120/220/320
.CO2A330/330i/X330/330i
.UVP30/50/100/150
Printing Sample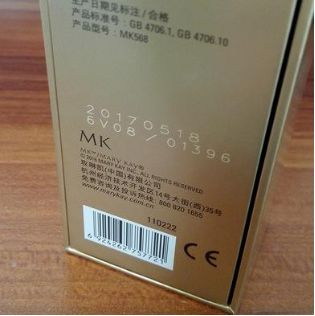 Last:no more!

Next:no more!